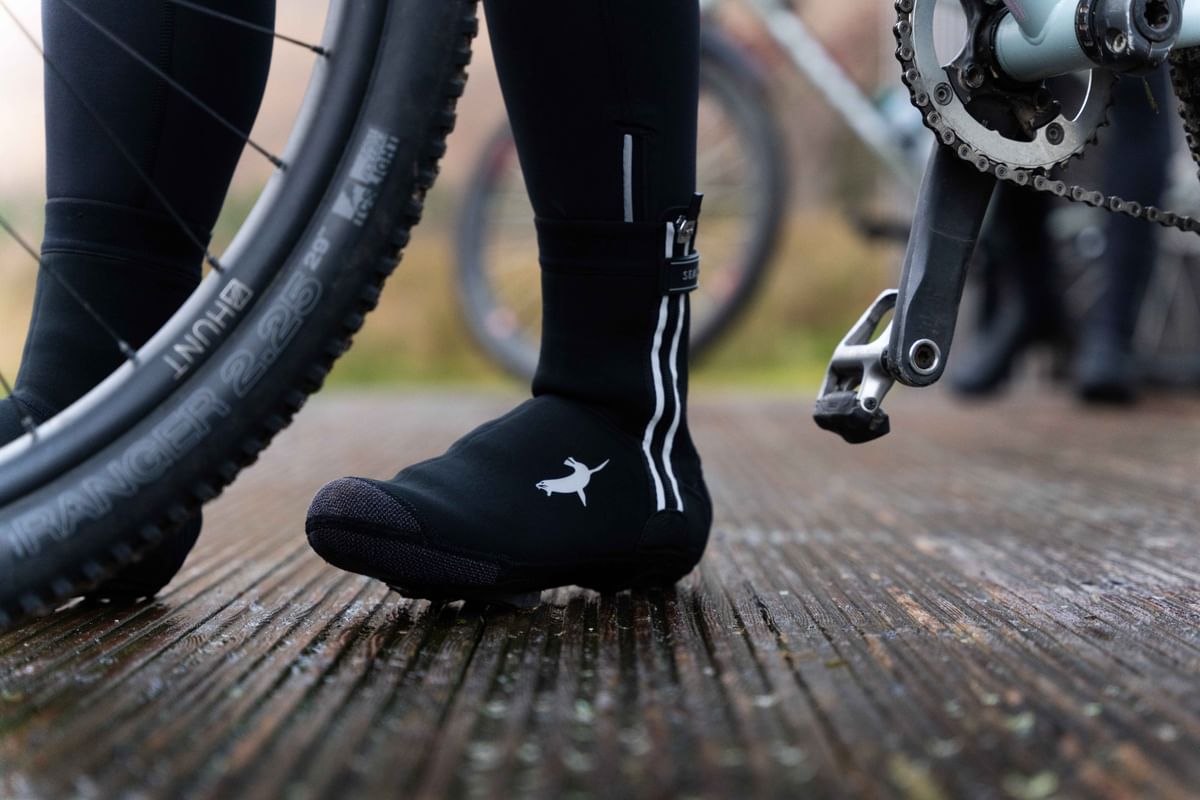 Essential Gear for Road Cycling
When out on the road, you'll want to make sure your cycling gear not only keeps you comfortable but also safe and seen. Because, when you're sharing the road with other cyclists and vehicles, you want to make sure you are prepared and ready to take on the challenge without worrying about anything else.
What gear do I need for road cycling?
Let's get into what types of gear we think are must-haves for a day out on the road.
It's dangerous to be out on the road with cars whizzing by so we always say the most important piece of equipment (aside from your bike that is) is your helmet.

Your helmet protects you from injury and can prevent head trauma by up to 50% when worn correctly [

stat

]. Modern helmets are lightweight yet still highly protective keeping you safer and more protected out on the roads.

You'll also want cycling shoes. You can definitely ride a road bike without proper cycling shoes, but if you're going to be an avid road rider, there are many benefits to investing in road cycling shoes.

Road cycling shoes are called clipless shoes. These unique shoes connect to your pedals using cleats and help you to gain power and create a steadier stroke when pedaling. They also keep your foot in a proper position on the pedal making it safer on your joints and more efficient.

As far as clothing is considered, bike shorts and a one-piece or two-piece riding kit with lycra are preferred for regular or long-distance riders. Extra padding on the bottom will ensure more comfort and the material and stretch will keep you from having any discomfort on your ride.

Sunglasses are also necessary for a road ride, seeing as though debris and other nuisances (we're looking at you little bugs,) can pop up fast and cause problems if you aren't protected. Sunglasses are also quite good for sun protection as well as wind protection because riding into all of that wind can make your eyes dry and irritated.

Cycling gloves are also a key element to a comfortable ride. When gripping handlebars for a long ride, you want to prevent any discomfort or slippage in order to stay safe and protected.

Many cycling gloves have reinforced palms (either leather or synthetic) that help you grip the handlebars but also don't restrict your dexterity or control. Additionally, a small, yet mighty feature of many cycling gloves is a nose wiper. Many gloves have a suede or suede-like patch along the thumb of the glove for you to easily wipe the sweat off of your nose which can be distracting. Cycling gloves also prevent more injury on the off-chance that you take a spill on the road. We tend to brace with our hands, so having them protected will go a long way if you do fall off your bike.

A cage-mounted water bottle holder, along with a well-fitted water bottle are also essentials for a long bike ride on the road.
What to wear road cycling in winter?
Road cycling doesn't have to end when there's a winter chill in the air. Instead, you'll just want to update your kit so that you can comfortably continue this incredible activity.
Take cycling gloves, for example, look for gloves with heavier duty materials, yet that doesn't compromise on dexterity and grip. Our Fusion Control™ line of gloves is designed with dexterity and control in mind creating a close-to-skin glove that is waterproof while also pushing sweat vapor out of the glove keeping you dry as well.
A good cycling cap that fits underneath your helmet can provide extra protection with a brim that keeps cold rain at bay but also protects your head from your vented helmet keeping you warm as well.
Cycling overshoes (or even oversocks,) are also very handy during winter riding. They provide an extra level of protection when worn over your cycling shoes. They keep rain, snow, cold puddles, and mud off of your shoes but also keep you protected so that your feet can focus on pedaling and not on how to stay warm.
Finding the best road cycling gear for you
Let's get into some more specifics on road cycling gear that will keep you safe, secure, and able to push through whatever weather has in store for you.
Best road cycling socks
You'll want to choose a sock that is close-fitting and is breathable. Depending on the type of year you're riding in, you'll also want a sock that will keep you either cool or warm as well.
We happen to think a waterproof sock is an amazing option to keep you protected on your ride. Not only do waterproof socks actually feel like regular socks (no sweaty plastic bag feet here,) they are also highly breathable and protective. Puddles, mud, and rain are no match for a good waterproof sock and can be the difference between letting a little rain ruin your ride or enhancing it.
Best road cycling hats
As we mentioned above, cycling helmets are the most important piece of kit for any road cyclist. But, having that extra protection whether it be wind, rain, or warmth, can be achieved by wearing a good cycling hat under your helmet.
A cycling hat with a short brim that isn't a distraction, yet still helps to prevent rain dripping down your face is also a bonus when it comes to a good road cycling hat.

You could also look into a gaitor. Many gaitors are designed for a variety of outdoor activities but you'll want to make sure to find a waterproof gaitor that fits snugly and comfortably under your riding helmet.
Best road cycling gloves
We mentioned road cycling gloves above, but it's important to note that gloves play many roles when it comes to road cycling.
You will want to look for gloves that allow for an increase in dexterity and control. Being in control on the road is paramount and you'll want to make sure your gloves aid in giving you that added protection you need.
Comfort is another factor when determining which road cycling gloves to wear. You want your gloves to have a close-to-skin fit yet also give you the breathability you need so you don't have to worry about sweaty, clammy hands ruining your ride.
Protection in the form of weather is also a factor to consider. Choosing a glove that is windproof and waterproof can give you that extra layer of protection needed so that weather is a non-issue when it comes to your ride. We truly believe that riding in the rain can be not only safe but fun as well.
Road cycling expert
Well, that's about it. Now you are pretty much a road cycling expert and are ready to get out and battle any road and any weather. Road cycling is one of those activities that the more you do it, the more addicted you become, so have fun and be safe. You can also read more about how to dress for cycling and how to stay protected on all of your outdoor adventures on our blog.